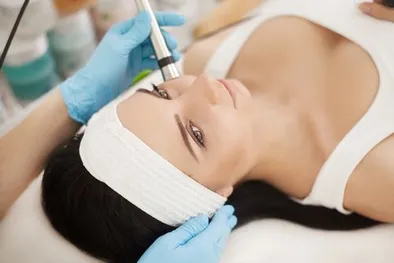 Microcurrent therapy is a form of treatment used for patients with soft tissue injuries and chronic pain. Similar to electrical stimulation therapy, electrodes are placed on the skin over the affected tissue. Unlike electrical muscle stimulation, the microcurrents are very small, (micro-ampere, about 1/10,000th the intensity of a flashlight battery) so you do not feel anything while the treatment is in progress.
Our bodies have a natural electrical current that helps cells to communicate. When there is injury or disease, the electrical currents are disrupted. Without these currents, the cells cannot function properly. When cells are not functioning and communicating properly, it slows down the healing process.
Microcurrent therapy restores the electromagnetic field within your body so that the cells are back up to normal function. This speeds up healing. Microcurrent therapy has been shown to decrease pain, inflammation, and muscle spasms. It may also help with range of motion.
Microcurrent therapy can be helpful for many physical conditions, both chronic and acute. Treatment is usually several sessions long, and it is often used in conjunction with another form of chiropractic therapy. If you are interested in learning more about microcurrent therapy, contact us today.